An invoice might be one of the most common documents you work with when you own your own business. You may send invoices, receive them, or a bit of both.
But do you know the important components? What should you include on yours, or what should you look for before paying one? Let's take a peek at the anatomy of an invoice.
When you receive an invoice, here are some key components you'll want to review: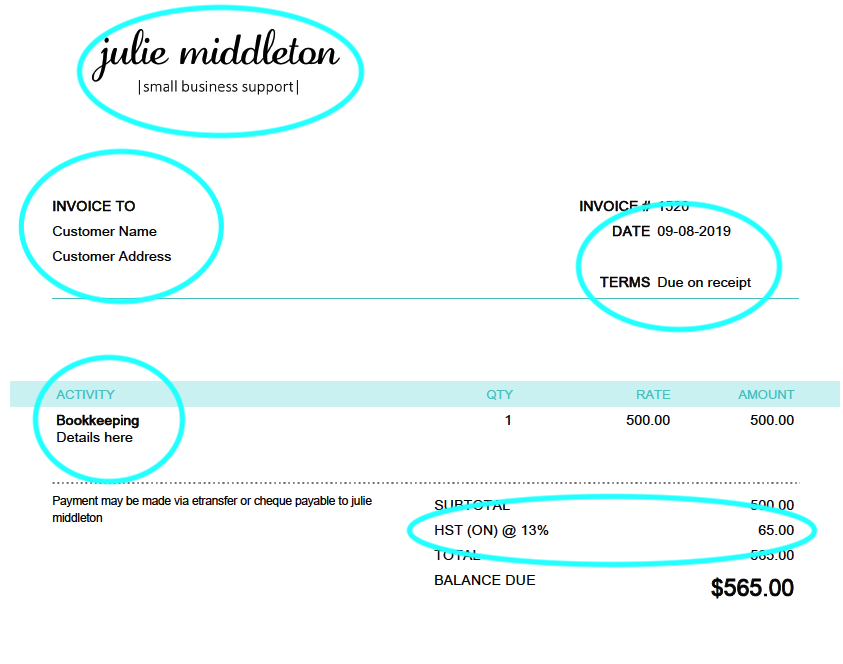 Issuer name – look for the business name and address. You should see both the name and address somewhere on the invoice.
Recipient – your business name should be accurate. If your business is operating under a trade name, the invoice should be made out to the business.
Issue date – there must be an issue date, including the year on the invoice
Invoice number – this is not a critical piece of an invoice, but helpful to keep track
Terms/due date – there may or may not be terms or a due date on the invoice, but if they are, they should match your contract
Activity – the amount of detail will vary but ensure that what you are being invoiced for matches what you've agreed upon.
HST – if you are being charged HST (or whatever your provincial tax is), the issuer's HST registration number MUST be on the invoice somewhere. If it's not, ask them to re-issue the invoice or send their number.
Total – do the math, does it add up? If an invoice has been prepared in MS Word or a word processor, it has been created manually and prone to addition errors.
When you issue an invoice, that document truly becomes a reflection of your business. If there are typos or addition errors, it may reflect poorly on your business. Take the time to polish what you are sending to your clients.  
When creating your own invoice, you can either use MS Word or Excel, or go straight to your accounting software. There are fewer errors likely to happen if you use your accounting software (ie QuickBooks/FreshBooks/Wave, etc.), and it's less work because you won't have to re-enter the invoice into that software later. In any case, here are some considerations:
Logo – include your logo (if you have one) to give your invoice a polished look
Spelling – check your spelling!
Payment terms – tell your clients when you expect payment, and how to pay your invoice
Purchase Order - if there is a PO, make sure to add it directly to the invoice
Most accounting software will give you some standard invoice templates to use. In QuickBooks Online you can customize the style of your invoice (ie colour, font, etc.) and the fields that appear (including adding in a PO field) using their templates and send directly from the app. If you're savvy enough, you can even import your own template to QBO and make it entirely custom to your business.
        If you are not sure if your invoices look ok or if the invoices you are accepting have all the right details, check in with your bookkeeper.
~julie